Wavicide-01
---
Medical Chemical Corporation is proud to offer WAVICIDE®-01, our glutaraldehyde-based sterilant that is the only one of its kind on the market today.
Non-corrosive:

WAVICIDE®-01 is a 2.65% glutaraldehyde sterilant / high level disinfectant soaking solution that has been tested and approved for use with endoscopes and stainless steel surgical instruments.

Ready to use:

WAVICIDE®-01 requires no activator saving you time and eliminating mixing errors. At a pH of about 6.3, it is very stable and noncorrosive.

Cost Efficient:

WAVICIDE®-01, when properly monitored with Wavicide® MEC Indicators provides more cycles per use than other comparable brand, saving time, money and shelf space.

Lighter Aroma:

WAVICIDE®-01 is a mild fresh scented replacement for those pungent smelling brands. It does not contain the suspected carcinogen ortho-phenyl phenol.
---
---
Wavicide Mec Indicator
---
For testing and monitoring re-used wavecide-01
Provide results in 3 minutes – save time
Work using dip, wait & read method
Designed for wavecide-01 exclusively
Wavecide-01 mec indicator are a companion product for use with wavecide-01 and suitable wavecide sterilizing/disinfecting try system. Utilizing a simple dip, wait and read method, infection control professionals are able to test full-strength, re-used wavecide-01 to ensure the level of glutaraldehyde is at least 1.7% (the minimum effective concentration or MEC). With a shelf life of 2 years (unopened) or 120 (once opened), the mec indicator provide a quick convenient and cost effective method of monitoring re-used wavecide-01.
---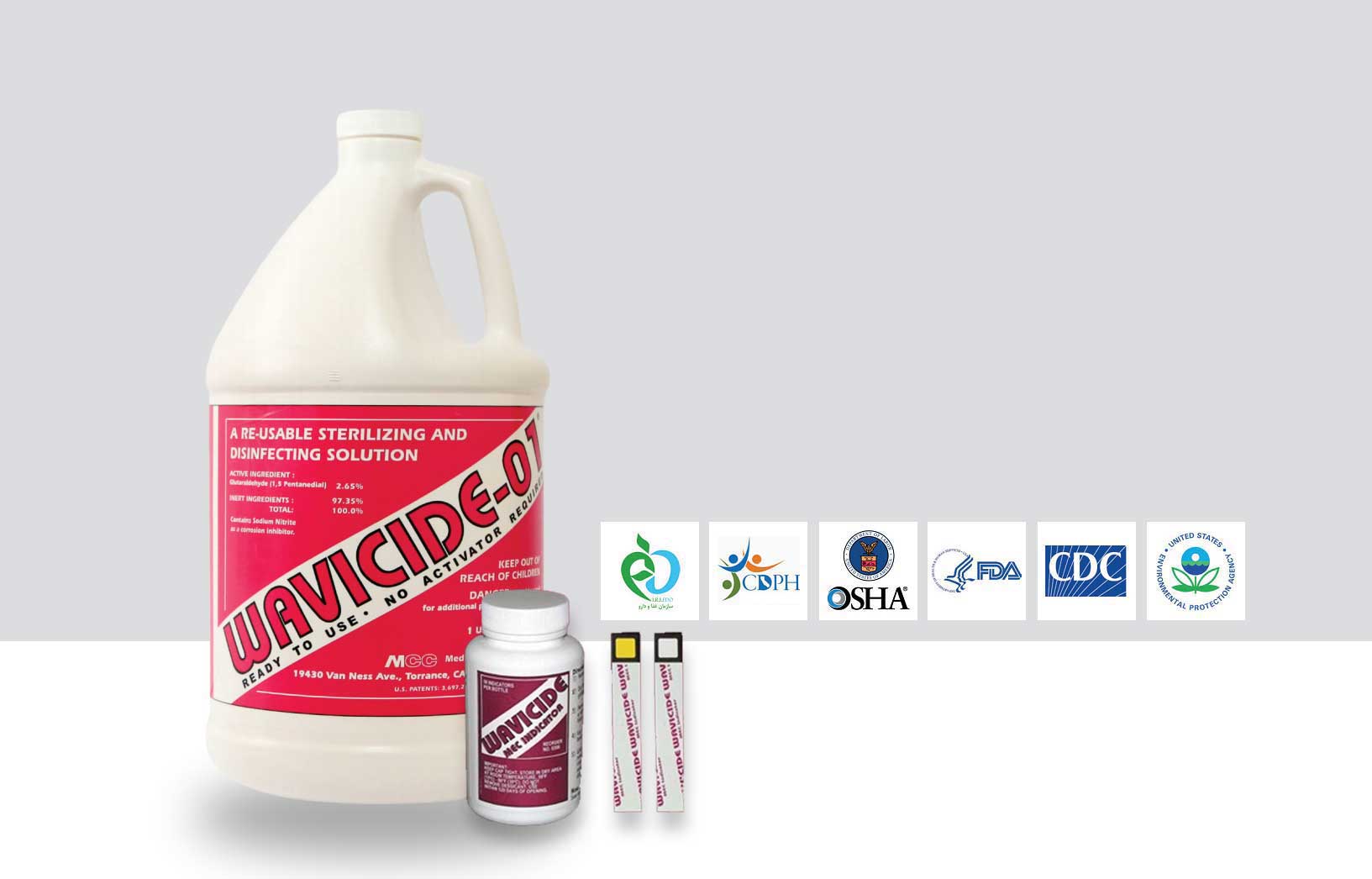 ---
Solucide
---
Kill Norovirus(Norwalk virus)
Kills Parvo virus
Kills Pandemic H1N1 influenza a virus
Kills SARS associated coronavirus
Kills Hepatitis A, B, C virus
Kills Clostridium difficile (vegetative form)
Fast TB kill
Kills HIV
Virucidal – Fungicidal - Pseudomonacidal
EPA registered
Neutral pH
Ready to use - Safe for use in food preparation areas - Fresh lemon scent
Solucide is an EPA registered hospital strength hard surface cleaner, disinfectant, deodorizer and mildev stat. soluside is a broad-spectrum disinfectant spray that is effective in the presence of organic so (5% blood serum). Solucide does not contain the suspected carcinogen ortho-phenylphenol or any other phenolic compounds. Solucide is effective against pseudomonas and is tuberculocidal in 5 minute at room temperature (22ºC). Solucide contain no alcohol or glutaraldehyde and has a fresh lemon scent
---
---
Wavizyme
---
WAVIZYME® and MEDIZIME®LF are enzymatic cleaners used by medical and dental professionals nationwide.
WAVIZYME® is a combination of enzymes and detergents, formulated to safely eliminate proteinaceous contamination and solubilize lipids on flexible optic scopes, surgical instruments and laundry.
MEDIZIME®LF provides the same cleaning power with the added benefit of low foam detergents. This facilitates lower suds production in automatic cleaning devices.
The use of enzymatic cleaners, like WAVIZYME® and MEDIZIME®LF, by infection control and gastroenterology professionals is a critical step in instrument decontamination. The utilization of these products prior to sterilization or high level disinfection with a 2.5% glutaraldehyde solution (WAVICIDE-01®) greatly increases the effectiveness of the germicide.
Saves Time: WAVIZYME® and MEDIZYME®LF once diluted, need only 2-3 minutes contact time for fiberoptic instrumentation.
Easy to use: WAVIZYME® and MEDIZYME®LF are packaged in gallon containers with an accurate 1 oz. pump dispenser or a single-use 1 oz.pouch.
Cost Efficient: WAVIZYME® and MEDIZYME®LF are concentrated yet mild in pH.
Enironmentally Safe: WAVIZYME® and MEDIZYME®LF are 100% biodegradeable and phosphate free. These solutions are gentle on the environment.
---
---
Medizyme
---
Quick and effective : works within minutes, bacteriostatic
Solubilize lipids : Quickly removes lipids
Low foaming : Specially formulated for use in automatic washers
Safe to use : will not produce hazardous fumes
Non staining : will not stain metal, glass, rubber, plastic, etc
Neutral pH
Economical : Extremely concentrated, 1oz, to 1gal, of water dilution
Biodegradable : environmentally friendly, contains no phosphates
A unique combination of enzymes and detegents formulated to safety eliminate proteinaceous contaminates from flexible optic scopes, surgical instruments and general laundry. Formulated for use in automatic cleaning devices. Can also be used in manual systems.